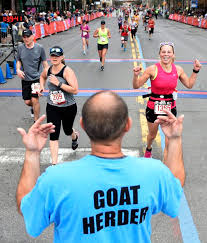 *All volunteers for the Mountain Goat Run will receive the prestigious "Goat Herder" T-shirt, and those of age are eligible to receive wristband for the post race party beer.*
 
Registration / Packet Pickup
Shifts available 5/4
​​Volunteers assist in runner registration and packet distribution at Fleet Feet. 1-single shift per volunteer is allowed due to popular demand.
 
Race Day Registration / Packet Pickup 
Race Day 5/5 6:45 - 9:00 AM
Volunteers distribute packets and bibs to participants at Saltine Warrior. 
 
Traffic Captain
Race Day 5/5 9:00AM - 12:30PM
​Volunteers will supervise traffic controllers for a one mile segment and must recruit at least TEN (10) volunteers to work with them on their one mile. 
*This position earns special volunteer monetary incentives for the 501c3 of their choice.*
 
Finish Line Chute Mover
Race Day 5/5 9:00AM - 12:30PM
​Volunteers assemble on the finish line to help guide runners across the finish line and through the finish line area.
 
Start / Finish Line Setup
Race Day 5/5 6:15AM - 8:30AM
​Volunteers assist with setting up banners, barricades, and signage at the start/finish line area. Some physical labor required. 
Start/Finish Line Coordinators: Paul Ashbarry and Wayne Mason
Water Set-up and Distribute
Race Day 5/5
​Shifts available from 7:00AM - 8:30AM, 9:00AM 1:00PM 
 
Refreshment Area Setup / Distribute /Tear Down
Race Day 5/5 6:15AM - 2:30PM
​Three shifts available for set-up, distribution, and tear-down of finish line refreshment area (bagels, bananas, water, etc.) 
Refreshments coordinator: Pinkie & Michael Walsh and Jen & JJ
 
Finisher Medal Distribution
Race Day 5/5 9:00AM - 11:30AM
​Volunteers will hand out finisher medals at the finish line. 
 
Kid's Run Monitors
Race Day 5/5 8:45AM - 9:30AM
​Volunteers will assist on-course during the Kid's Run.


Earth Day Course Cleanup
4/20 11am -1pm
Kids Korner
5/5 8am - 12pm
Vendor Volunteer
5/5 8am - 1pm